Digital Wallets
American Bank of Missouri now offers Digital Wallets: Google Pay™, Apple Pay®, and Samsung Pay™.
Now You Can Pay with Your Phone!
Digital Wallets are a convenient way to make a purchase using only your phone, tablet or smartwatch. Your debit card information is stored in an app on your mobile device that opens when you hold your device up to the payment terminal. No more digging in your wallet for a card that is now stored at your fingertips!
It's FAST, CONVENIENT and More SECURE than a traditional card.
How do I set up my card?
Download the appropriate app. (iPhones® already have the Wallet app installed, and many Android phones do too. Apple Pay only works on iPhones, and Google Pay only works on Android Phones. Samsung Pay only works on Samsung Phones, and yes Samsung's can also use Google Pay.)
Load your card. The app will walk the user through the process and makes it easy by using the camera to capture your card info.
Verification*. The app may prompt the user to call the bank so we may confirm the user's identity. We will ask you for key information like your social security number, and we'll ask you to name one of your most recent card purchases.
*Note: Many iPhone customers won't have to do this step if they are using the card they have set up in their iTunes/Apple account.
Using the Digital Wallet
When you are ready to checkout, simply unlock your phone and hold it close to the payment terminal that has one of the Digital Wallet App Icons or the below symbol - there is no need to open the Wallet app.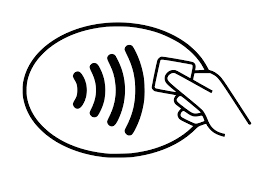 Looking for more information about your specific wallet? Check out the websites below
Apple Pay Google Pay Samsung Pay
Sign Up Today!
Contact your favorite branch for more information.
Digital Wallet FAQS
What does it cost to use a Digital Wallet?
Nothing! The purchase will be the exact same amount as if you paid with your physical card.
Are all mobile devices compatible with Digital Wallets?
No. Older phones are not compatible. Below are general rules of thumb to use:
iPhones have to be iPhone 6 or newer.
Samsung phones have to be Galaxy 6s or newer.
Android Pay is available on all non-rooted Android devices (KitKat 4.4+).
See your device manufacturer for more specific details
Is Digital Wallet secure?
Your card numbers are not stored on the phone and the wallet app assigns each credit and debit card a virtual card number, sometimes referred to as a token, that is only associated with the digital wallet and mobile device you use. When you use your device to pay, the wallet doesn't send your actual credit or debit card number with your payment. Instead, it uses the virtual card number to represent your account info. Your card then is never exposed and neither is your checking account. The apps require authorization via your fingerprint, passcode, or another security measure before completing the transaction. Additionally, to just have a card loaded the app will require the user to have their device security setup. Therefore if someone found your phone they couldn't access your wallet without unlocking your phone.
Will my transactions on my statement look any different?
No, all transactions will appear as they do currently.
What if I get a new Card?
If you receive a new card in the mail, you will need to go through the upload and authentication process once again. After this is complete, you may delete the old card from your wallet.
Apple, the Apple logo, iTunes, iPhone, and iPad are trademarks of Apple Inc., registered in the U.S. and other countries. Apple Pay and Touch ID are trademarks of Apple Inc.
Google Pay is a trademark of Google Inc. Android, Android Pay, and the Android Logo are trademarks of Google Inc.
Lost Card
Please contact your preferred location during business hours, or call (800) 472-3272 after hours.